Shopping Cart
Your Cart is Empty
There was an error with PayPal
Click here to try again
Thank you for your business!
You should be receiving an order confirmation from Paypal shortly.
Exit Shopping Cart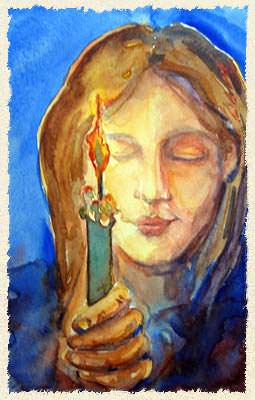 I'm not one for New Year's Resolutions; they've always seemed so false, so forced, so … typical. That doesn't mean to say that I don't appreciate the whole concept of starting fresh or resetting the clock. That mental decision, to put old things away and only focus towards t...
Read Full Post »
I'd been given the privilege of a private room in the hospital. It was a big room – easily meant for two beds – but there was only mine in the vast space. Was this the official "Miscarriage Room?" I wondered. The locale where all failed mothers spent their initial first moments of cruel reality. How many defeated, broken women had bided their time in this room in this very bed waiting until the doctors determined they were "strong enoughR...
Read Full Post »
Queen Elizabeth used the phrase 'annus horribilis' in reference to her "year of horrors" in 1992. For me it was 1998. In February of that year my twenty-eight year old sister Amy was diagnosed with Non-Hodgkin's Lymphoma and began the process of chemo therapy and radiation. In March, I miscarried for the second time. And in August as we celebrated the end of my sister's radiation regime my mother collapsed and was diagnosed with a brain tumor and immedia...
Read Full Post »
Almost everyone living in the real world knows that the concept of "the worst moment of my life" is a lie. More accurately, we accumulate worst moments over the course of our existence like a collection of nasty pearls on a necklace that is permanently strung around our necks. By their very definition, 'worst moments' get bigger and badder as life progresses eclipsing the one before it until we find ourselves walking around with a horrid collection of memories weighi...
Read Full Post »
My childhood memories are riddled with worry, sewn together with panic, and painted with dread: about school, about gettingt things wrong, about getting in trouble, about being alone … None of my fears were rationale in case you were wondering. I was raised in a loving, middle-class family that included close extended family. My mom stayed home with the kids, my dad went off to work every day, and if the weather was good all the neighborhood kids played kickball in the street every ...
Read Full Post »
Because you are my helper,
I sing for joy in the shadow of your wings. (Psalm 63:7 NLT)
My younger sister died when I was fifteen. Born with the genetic disease Cystic Fibrosis, her death was not a shock; more like a reality I grew up with. I remember the church family praying for a miracle healing as her health deteriorated. She was eleven when she died, and hers was the first wake and funeral I attended. ...
Read Full Post »
/