Shopping Cart
Your Cart is Empty
There was an error with PayPal
Click here to try again
Thank you for your business!
You should be receiving an order confirmation from Paypal shortly.
Exit Shopping Cart
| | |
| --- | --- |
| Posted by Susan McGeown on 13 December, 2009 at 15:31 | |
For more information on this book, please see my NEWS! page:  "Where Did Rosamund's Bower Go?"

My son wanted a book about knights. I made Rosamund's Bower as "knightish"as I could, but the reality – that it is an historical fiction romance – kind of misses the direction my son was hoping for!  Historical fiction stories always have a truckload of harsh realities to work with: arranged marriages for power and prestige, rampant infidelity, blatant class distinctions, civil unrest and political intrigue. My heroine, Rosamund, faces all of these hardships and gets battered around pretty badly as a result. I let it happen,too, because real life rarely lets us dance through the flames unscathed. For many, what Rosamund faced would have been their complete undoing. But I give Rosamund a faith that is strong and vital. Not only does this faith help her succeed, it turns out to be more effective than any of her knight's weapons!  Yeah!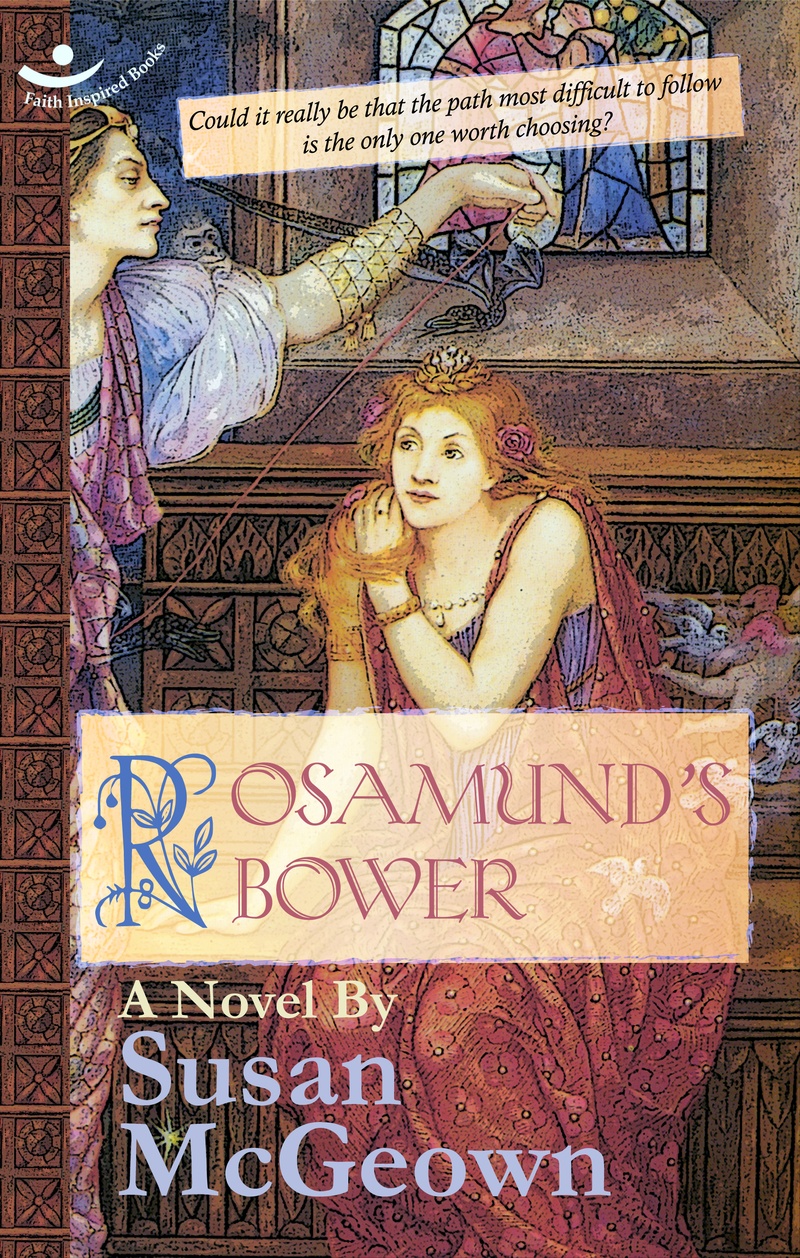 He was a prisoner of war at seven.
She was a widow at fifteen.
For Thomas, bastard by birth, the opportunity to fight and serve the King was an honor he should never have expected, but by chance received. Focused and driven, his dreams were simple; just to have a place to call home.
For Rosamund, her beauty was renowned, yet it was her faith that was her strength. She struggled with the reality of her world; dreams were for fools and love was for wastrels.
Life in the 12th century, when King Henry II ruled, was a time when responsibilities and obligations were your birthright and honor demanded you saw them through to the end. The price was high, even to death. As Thomas and Rosamund struggle in the separate paths of their lives, the complications of politics and war and hatreds and revenge swirl around them making every forward step seemingly impossible.
And then things get even worse, for they fall in love.
Could it really be that the path most difficult to follow is the only one worth choosing?
AS OF APRIL4, 2009 THIS BOOK IS NO LONGER AVAILABLE FOR SALE!!!
WATCH FOR A NEW RELEASE SOMETIME IN THE NEAR FUTURE (LORD WILLING!!!).
Categories: My Books
/