Shopping Basket
Your Basket is Empty
There was an error with PayPal
Click here to try again
Thank you for your business!
You should receive an order confirmation from Paypal shortly.
Exit Shopping Basket
OMG!

Most of us know what this strange looking collection of letters means but for those who don't it's the texting equivalent to the expression, "Oh my God!"  From the first moment that I was asked to preach, I've known I wanted to talk about the phrase, "Oh my God!"
Being a little Baptist girl, I grew up with a healthy respect for the phrase, "Oh my God!"  "Thou shalt not take the name of the Lord thy God in vain!"  (Exodus 20:7)  Based on this commandment (number three if you're interested) I had been taught that saying the phrase was a sin.  Not actually sure what "in vain" meant back then but suitably educated in what a sin was, I've avoided the expression altogether.  My children were raised to not use the phrase and to this day I can't help internally cringing when I hear someone use the phrase.  (i.e. "Oh my god!  I can't believe you ate that whole thing!" or "Oh my god!  What's that smell?!"
Do you use the phrase?  When you do are you conscious of what you're saying or is it just a casual expression along the lines of "Wow!" or "Gesundheit!" (God bless you in German, said when someone sneezes) or "Have anice day."  The interesting thing is that "God" isn't really God's name.  It's more like a title equivalent to King or Superior Court Judge.  I suppose you could say, "Oh my president!"or "Oh my mailman" with equal impunity.)
Yet after a lot of thought, I've decided that I think quite a few biblical characters must have used the phrase, "Oh My God!" with appropriate justification. 
I'm pretty sure that Moses must have said, "Oh My God!" when he encountered the burning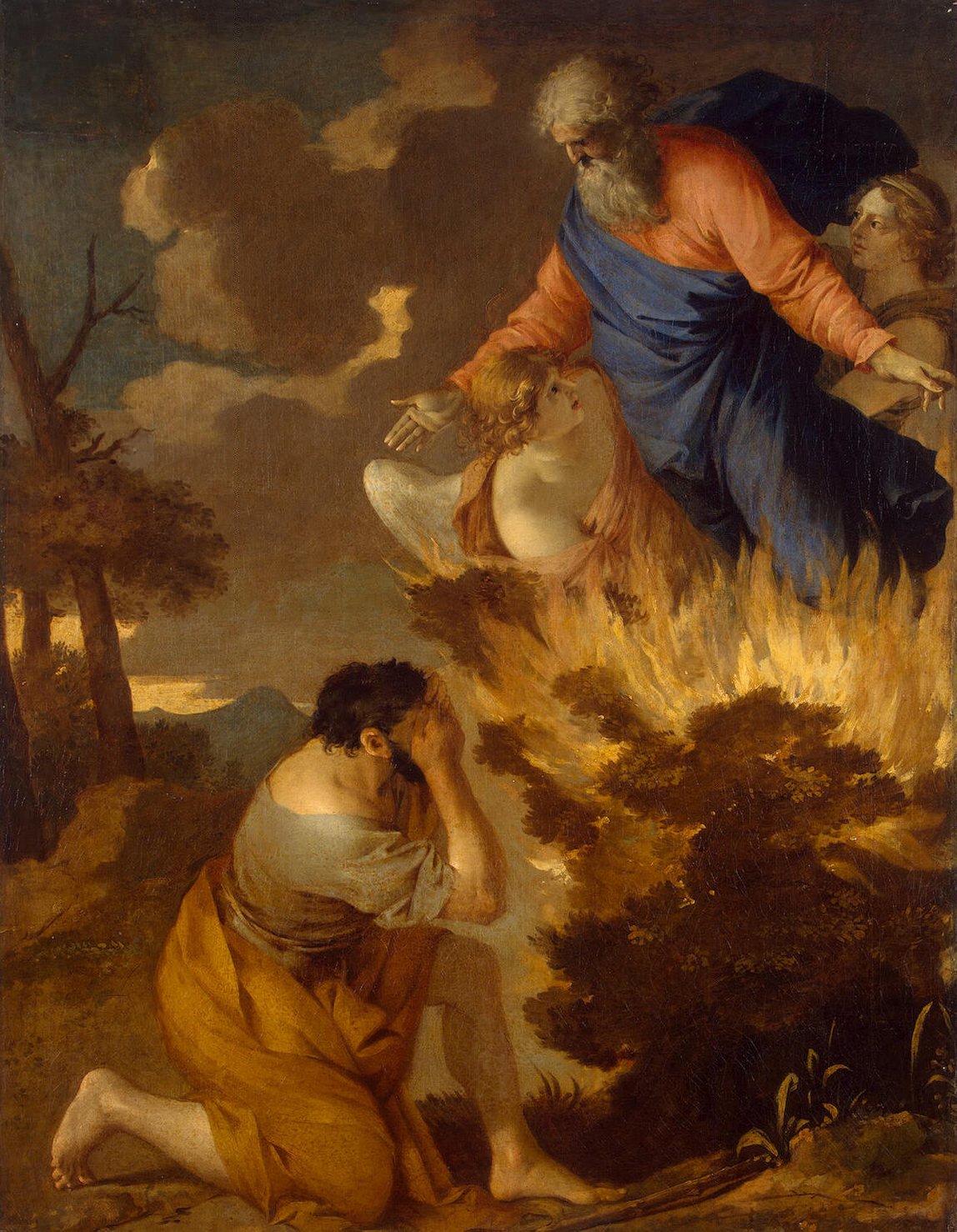 bush in the desert and has his first ever conversation with God. (Exodus 3)  He actually tried to clarify the whole name thing with God, asking him specifically "If I go to the people of Israel and tell them, 'The God of your ancestors has sent me to you,' they will ask me, 'What is his name?' Then what should I tell them?"  (Exodus3:13)  (Please note in my humble opinion Ithink this was a viable question.)  God,in His infinite wisdom, gave the somewhat vague answer, "I Am Who I Am" (Exodus 3:14)  (Somehow, "Oh My I AM" doesn't have the same ring to it.)
Of course, this led to the whole using the name of God in vain as a sin issue.  In essence, God is so superior to us, so transcendentally above our station within the universe that He and we being on a casual, first name basis is simply impossible.  And just in case you're wondering, the Holy Name of God was known but only by the Jewish High Priest and he was allowed to utter it only once a year when he was inside the Holy of Holies (the most sacred location on earth).  Never written down, this Holy Name of God was written only using the consonants YHWH; the true pronunciation of which has been lost in antiquity.  Nowadays we guess by saying "Yahweh"; many of our biblical translations simply substitute "the LORD" for where the real, formal name of God should be used.  Look on many Jewish websites and you'll see that in deference to His holiness even 'God' is spelled out "G-d".
Once I thought about Moses saying, "Oh My God!" that got me thinking about others biblical heroes. 
I'm pretty sure that Noah must have said, "Oh My God!" at the moment that the ark broke loose from solid ground and began to float away to parts unknown amidst an epic torrential downpour. 
Daniel probably did, too, in the lion's den, as probably did Mary when the angel Gabriel appeared to her and Saul – who later became Paul - on the road to Damascus… 
Are you getting my point?  The phrase "Oh My God!"accurately used, should always reflect a personal statement of faith.  Is it only as meaningful to you as"Gesundheit"?  Is it merely an automated exclamation?  Or is it a sincere, heartfelt prayer?
Saul, who became known as Paul is a biblical hero that had quite a history. Privileged, educated, passionate, and spiritual he used the phrase "Oh My God!" incorrectly until the Lord set him straight on the road to Damascus.  He was a man with intimate knowledge of the feelings of loneliness, loss, regret, and guilt.  Paul wrote thirteen of the twenty-seven books of the New Testament, filling over one third of that portion of the Bible.  In Ephesians 3 he writes a prayer that has come to mean a lot to me; in fact I've memorized it and – this will probably shock very few who know me – I've edited it to fit my purposes!  While the true translation is written in the third person – a prayer Paul wishes for his fellow believers in city of Ephesus – my version makes this prayer my personal 'Oh My God' statement.  Listen to the first part of this prayer.  Can you see what My God looks like?
When I think of the wisdom and scope of God's plan,
I fall to my knees and pray to the Father,
the Creator of everything in heaven and on earth. 
I pray that from His glorious, unlimited resources
He will give me mighty inner strength through His Holy Spirit. 
And I pray that Christ will be more and more at home in my heart
as I trust in Him. 
Ephesians 3:14-17
This God that I believe in and have chosen to rule my life by is so big that He can only be described as three persons in one.  Do you see that?  There is the mighty Father, the creator of everything in which my "Oh My God" can only be uttered on my knees in awe at His power and might.  There is the Holy Spirit in which my "Oh My God" is uttered standing tall and powerful (sometimes even with a cape flapping off my shoulders) in which I feel invincible.  And there is the Messiah – the Christ – my savior, redeemer, and friend who holds me close as I whisper my "Oh My God" through the agony of my tears.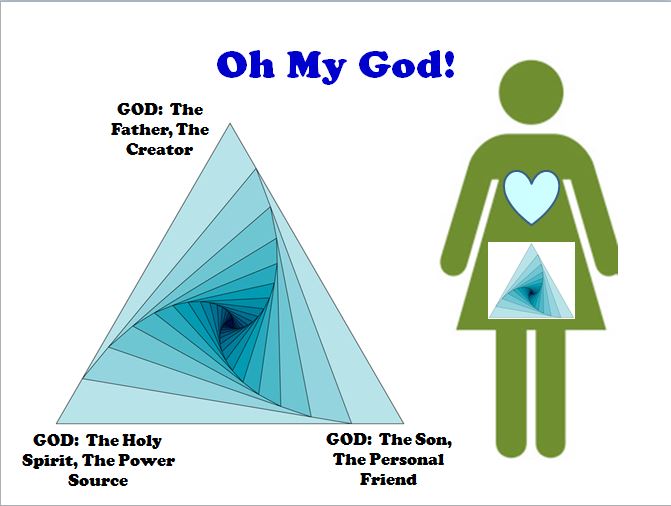 This is the God that I believe in and have chosen to rule my life by. I have made the decision.  I have stepped over the dividing line of doubt into the vast expanse of a faith based life and have made an endless free fall into My God's arms.  Oh My God!
Paul's prayer includes adviceon how we are to achieve this.  What is our responsibility is in all this?
May my roots go down deep into the soil of God's marvelous love. 
And may I have the power to understand, as all God's people should,
how wide, how long, how high, and how deep His love really is. 
May I experience the love of Christ,
though it is so great I will never fully understand it. 
Then I will be filled with the fullness of life and power that comes from God.
Ephesians 3:18-19
"Deep roots…experience…understanding…filled with life and power."  I've made a choice to believe in all of this.  This choice to believe is an on going, never ending process in which I am forever growing and changing and working.  I am no longer the person I once was prior to knowing Jesus Christ as my Savior.  I am transformed.  Evolved. Made new.  No longer is the success of my earthly life measured by the dollars in my bank account nor is it evidenced by the number of grey hairs that I regularly work to cover up with Nice 'N Easy #37.  No, the goal of my life is to make My God smile and in doing so claim the life God intended for all of us to have.  Oh My God!
For me, it's become a lifetime commitment with a guaranteed reward that's beyond my human understanding.
Now glory be to God! By His mighty power at work within me,
He is able to accomplish infinitely more than I would ever dare to ask or hope.
Ephesians3:20
Oh My God!  What a promise!  "Infinitely more than I would ever dare to ask or hope."  Can you envision what that statement entails?  It means take the biggest, broadest, most incredible possibility you could imagine and God will do "infinitely more." 
Is "Oh My God" part of your daily vocabulary?  Can you describe your God?  Can you point to evidence in your life of being filled with His life and His power?  Are your roots deep?  Is your faith ever growing?  Are you excited about the infinite possibilities a personal relationship with God offers you?  Can you say, "Oh My God" with passionate reverence regarding your personal relationship with Your God? 
I pray that you have all these things.  Let Paul's prayer be your personal "Oh My God" prayer, too.
Categories: Spiritual Tidbits, Empowerment, Prayer
/