Shopping Cart
Your Cart is Empty
There was an error with PayPal
Click here to try again
Thank you for your business!
You should be receiving an order confirmation from Paypal shortly.
Exit Shopping Cart
Because you are my helper,
I sing for joy in the shadow of your wings. (Psalm 63:7 NLT)
My younger sister died when I was fifteen. Born with the genetic disease Cystic Fibrosis, her death was not a shock; more like a reality I grew up with. I remember the church family praying for a miracle healing as her health deteriorated. She was eleven when she died, and hers was the first wake and funeral I attended. I don't usually volunteer that information about myself immediately. People tend to have reactions and make assumptions that are incorrect which I then must work to realign, i.e. I had a relatively happy childhood and my life story is not a tragedy.
The Shunammite Woman's story in 2 Kings 4 is one of my mother's favorite Bible stories. I remember wondering how that could possibly be: mom didn't get her little girl back from the dead like the woman from Shunem did. Wouldn't that story make you angry? Bitter? Jealous? When the church's prayer to miraculously heal my sister didn't work, shouldn't that have shaken Mom's faith just a little?
I can't begin to understand the reality my mother lived in experiencing the death of her child. As a child I saw her tears, as a mother I can only begin to imagine her grief, and as a fellow woman after God's own heart she has shared some of her personal agony. What I can absolutely attest to, however, is how my life has been blessed having lived within the shadow of such a woman as my mother.
Despite being a young woman actively involved in church, I never managed to become involved with any young men who were of like standards, which was trouble right from the start. From high school through my twenties I never lacked for male company, but never enjoyed spiritual companionship. At the age of thirty-one when I finally married, the closest I had gotten to a Christian marriage was I had been married by a minister in a church, I was allowed to ask my husband to occasionally join me on Sunday mornings ("But don't ask me every Sunday") and I was welcome to raise any future children in any faith I wished ("If they turn out as good as you I'll be happy.")
I found a small local church near our home and began to make sporadic appearances. However attending church on my own, once I was married, just about broke my heart. (Staying home on Sunday mornings with the new hubby didn't make me any happier, though.) On Sundays that I appeared particularly sad or asked outright, my husband would reluctantly tag along. One Sunday David got up, got dressed and came down ready for church without any pleading on my part. Sundays took on a whole new meaning for both of us.
Through the strong witness of a woman at church David made a public profession of faith and was eventually baptized. We made life long friendships there, becoming actively involved in numerous levels of church. It was at this church that my writing, speaking, teaching and leading truly blossomed.
I began leading a women's Bible study every Thursday afternoon out of my house. Sometimes fifteen women (including my Mom) with their children would crowd into my family room and we would fellowship, pray, and study. One of the women who held a position of leadership in the church (she was, in fact, the deacon who came to our home, spoke with David and convinced him to be baptized) asked if she could come one Thursday and share her testimony with us. I was delighted. Linda shared many personal aspects of her childhood and married life; the road had not been easy and for a major portion of her early life the idea of committing her life to Christ was something she vehemently did not want to do. Life had proven categorically to Linda that the world was a cruel, hard place. And if there was a God - especially an all-powerful god - He was not the kind of being she wished to associate with. Look at the world! Look at the tragedies! Look at the cruelties of life! Linda was a nurse, you see, and had seen unimaginable heartbreak in her hospital wards. Being religious didn't spare you; she'd seen devout families who were faithful and good and deserved only happiness in their life suffer unimaginable heartache and loss.
A friend had invited Linda to a women's conference and she agreed to go. The speaker shared about surviving the loss of a child and told the story of the Shunammite woman who, at the death of her only child, was still able to say before her child was raised from the dead, that all was well. "How could that be?" the speaker had asked her audience. "What did that woman have that gave her the ability to respond that way?" Although it appeared that the Shunammite woman's life was in tatters,the true reality of the situation was that her faith in God was still strong. Her soul, the essence of who she was, was well. She was not a member of this earthly life; her home was in heaven.
In my family room there wasn't a dry eye in the house. Turning to my mother, Linda asked, "Isn't that what you spoke about, Marylynn?" My mother, the guest speaker at that women's conference in which Linda had made her profession of faith, nodded through her tears.
Life is difficult, sometimes even impossible. A life of faith does not promise us a life of ease. It promises more than that. It promises beauty from ashes, joy from sorrow, triumph from despair. I do not tell you this because I have been taught it; I tell you this because I have lived it. And I want you to live it, too.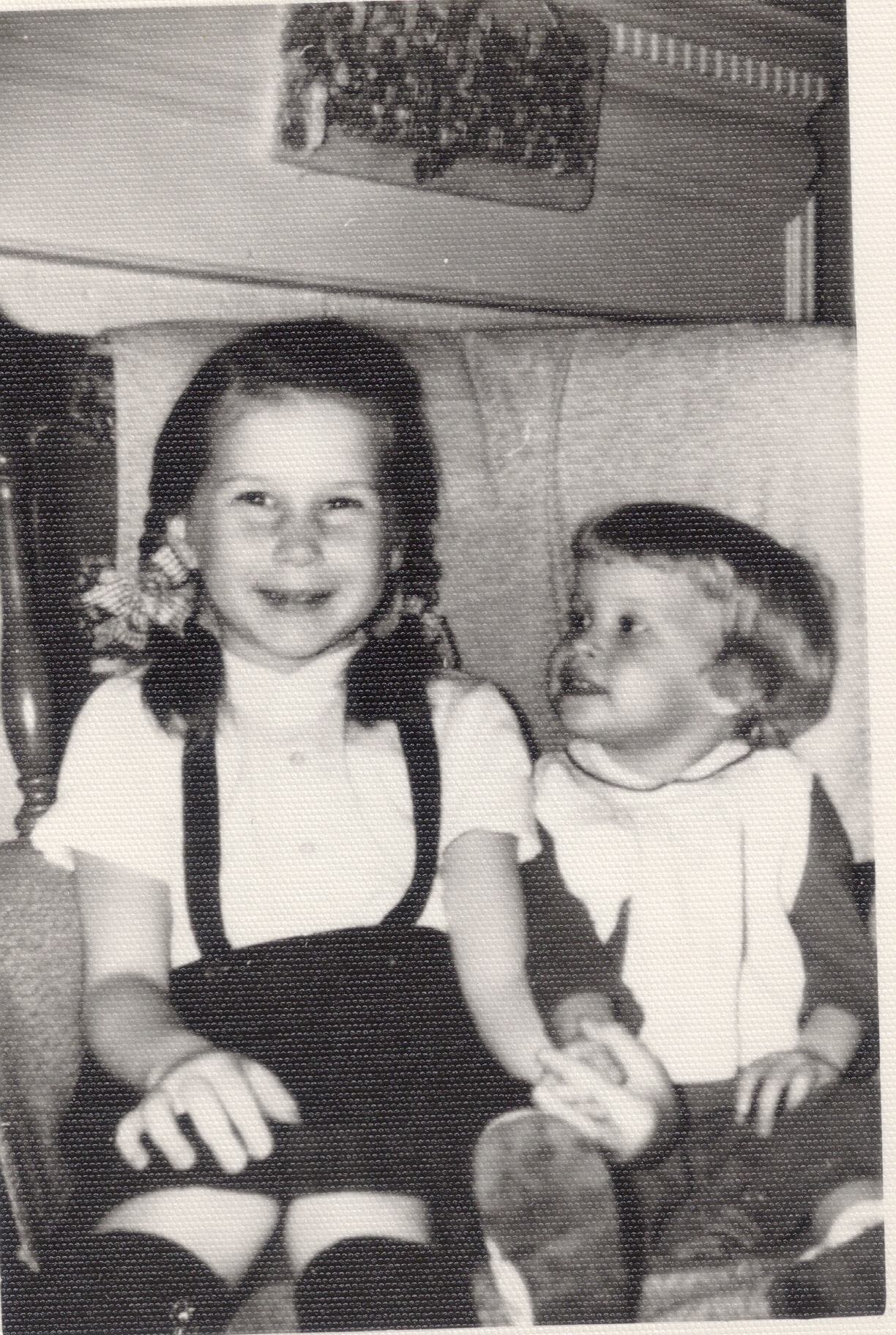 My sister Faith and I ... a long, long time ago.
Categories: Tragedy, Empowerment, Depression & Anxiety
/